Therapy that's easy to live with.
Not all pneumatic compression is the same. Designed by a leading vascular surgeon, Lympha Press leads the world in innovative design.
Lympha Press systems are designed for optimal therapy and ease of use.
Refer to our catalog for Lympha Press indications and contraindications.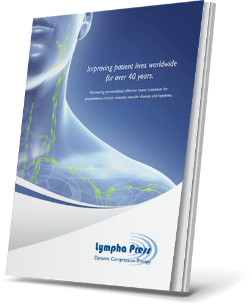 Lympha Press systems are designed for optimal therapy and ease of use.
Refer to our catalog for Lympha Press indications and contraindications.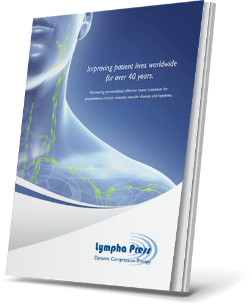 Quick cycle
Our rapid fill/deflate cycle increases patient comfort and applies more therapy in less time.
Overlapping chambers
Overlapping chambers apply a directional massage wave without gaps in treatment that could cause "wedging" or wrong-way flow.
Torso garments
Designed on the principles of manual lymph drainage, our torso garments treat the trunk, chest, back, and abdomen.
Variety of therapy options
Pretherapy™, Sequential, Peristaltic ("Wave"), and Post Therapy Focus options.
Easy operation
Clear displays, knobs, and anti-tamper mechanisms make our systems easy to use at home.
Easy on. Easy off.
We test our garments for easy donning, doffing, and independent use.
Wide range of standard sizes
Our extensive size range and adjustable fasteners provide "off the shelf" solutions.
Sturdy and durable
For use at home and in clinic.
Custom sizes
Made to fit out-of-range sizes and amputees.
Upper Body Garments
Lympha Press upper body garments are designed to meet the needs of patients with upper extremity lymphedema. These garments treat the entire arm, shoulder, one side of the back, and chest wall.
Lympha Jacket™
The Lympha Jacket offers complete bilateral treatment for arms, together with the entire upper body (chest, shoulders, back, and abdomen).
Arm Garments
These garments simplify treatment for postmastectomy lymphedema and is effective therapy for arm, breast, and torso lymphedema in the clinic and at home.
Leg Garments
Lympha Press leg garments are designed for comfortable, effective treatment of the entire leg, foot, and ankle areas.
LymphaPod®
The LymphaPod is a sequential pneumatic compression therapy system designed specifically for the larger patient, providing effective treatment for lymphedema, venous insufficiency, and lipedema.
Lympha Pants™
Lympha Pants treat the entire lower body, including the abdomen and groin area, while providing complete bilateral treatment of the lower limbs. Available in 24 or 16 chambers.
The Optimal Plus provides proven therapy for lymphedema, chronic venous insufficiency, and lipedema.
Effective management of these conditions can be as varied as those that live with them. Our clinically proven, easy-to-use therapy is built for changes in condition and changes in life. This flexibility in therapy results in a higher rate of use.
PCD-51™ Analog Pump
A compact, user-friendly, sequential system with adjustable pressure and time designed for quality home treatment. Utilizing Lympha Press® Smart Technology™, the PCD-51™ is capable of treating two limbs simultaneously.
PCD-52™ Digital Pump
A multizone, sequential gradient pump that offers a battery for portability and advanced Smart Technology™ for patient-specific therapy.
Along with Lympha Press, we are proud to offer ArtAssist® featuring EndoShear™ Technology. More than 60 clinical studies conducted on this device prove that this therapy promotes arteriogenesis, which is the permanent opening of collateral arteries.