Multizone pump for versatile therapy
Multizone pump for versatile therapy
You need versatile compression. We've got it!
The Lympha Press PCD-52 is a calibrated gradient compression pump designed for easy, effective self-care at home. Utilizing Lympha Press Smart Technology™, the PCD-52 is capable of treating two limbs simultaneously.
Treatment can be tailored to your specific condition and needs.
Massage functions relieve swelling and discomfort.
Automatic pause time for efficient and comfortable therapy.
Designed for easy, effective self-care at home.
The PCD-52™ has Multizone Calibrated Gradient Compression, which features:
The ability to set the pressure independently in each of the zones on the garment;
Lympha Press® Smart Technology™ that applies precise pressure according to individual patient and garment dimensions;
A safety component that will not allow setting a reverse gradient, which could cause wrong-way flow or reflux;
The ability to treat two limbs simultaneously for increased compliance.
Features
Therapy Modes
Technical Info
Getting Started
Reviews
Compact individualized therapy.
Adjustable Pause Time between 10 to 70 seconds
Automatic Pause Time increases the pause as needed to ensure complete deflation
Adjustable Hold Time between 0 to 10 seconds adds additional compression at the end of the inflation cycle
Multi-voltage to accommodate travel
Treatment Timer from 15 to 90 minutes
Treatment Lock to prevent accidental tampering with prescribed settings
Compliance meter enables clinician to check patient use
Compact individualized therapy.
This unit offers four therapy modes including a unique Pretherapy™ proximal to distal compression cycle designed to stimulate the lymphatics. With adjustable ranges of therapy pressures and sequences that allow customized treatment options (20-90 mmHg), Lympha Press Smart Technology™ "learns" the patient's unique measurements, calibrating the pressure in each chamber, and adjusts to changing measurements for optimal therapy.
Pretherapy™ Mode
Prepares the proximal treated area to receive lymph fluid before the main treatment.
Post Therapy Focus Mode
Applies additional therapy to a specific area after the main treatment is completed.
Peristaltic Mode
Otherwise known as wave mode, this offers comfortable and effective treatment for patients with distal discomfort.
Sequential Mode
This mode is used for effective reduction of edema.
The Lympha Press® PCD-52™
Pressure Range
20-80 mmHg
Size (W x H x D)
22 x 17 x 13 cm.
8.6 x 6.7 x 5.1 in
Electrical
100-240 VAC,
50/60 Hz
Treatment Timer
15-90 minutes
4 or 8 Chambers
Use with any of our 4 or 8 chambered garments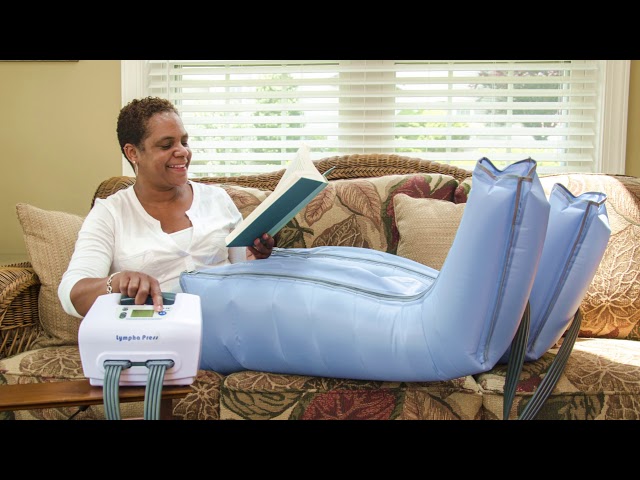 Lympha Press therapy is user-friendly.
Seeing is believing: watch how simple it is for patients to get started!
Really feel the pump is improving my condition. It is easy to use and I am able to move it to a different room for treatment if necessary. I appreciate that it is so portable.
This is my second pump and I can't tell you what a difference they have made in my life.
I would tell anyone with my problem to try this pump. It has helped me and would help other people.
I never thought my legs would respond so well, but this pump kicks butt and takes numbers. Love, love, love. I can't say enough positive things about the pump. This pump will pump you up, fluid out.
The pneumatic compression pump has decreased the swelling and discomfort in my legs. I even have more energy. My gracious, thanks to all for helping me!
Built for real life. Yours.
See how Lympha Press at-home therapy systems help patients manage their condition.