Lympha Press® is designed to keep therapy moving forward.
Your patients are dealing with chronic conditions that require ongoing management.
What motivates them to keep going? Results.
And results are directly related to adhering to the protocol you've prescribed.
Our patients love using their Lympha Press.
For over forty years, Lympha Press dynamic compression therapy systems have helped patients all over the world deal with lymphedema, chronic venous insufficiency, wounds, and lipedema. We're the number one global brand in pneumatic compression for many reasons, including proven clinical evidence in over thirty peer-reviewed publications.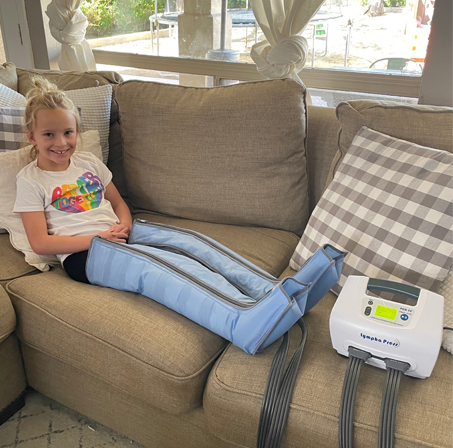 Why is Lympha Press so effective?
It's a perfect combination of therapy that works for your patients' conditions and their lifestyles. Our pneumatic compression systems incorporate advanced technology and are designed for ease-of-use, which contributes to high adherence rates and excellent outcomes.
We count on your patients improving. That's why our advanced programming capabilities enable customization and flexibility. In other words, Lympha Press therapy adapts to your patients' progress.
Not all pneumatic compression is the same.
Lympha Press is different, offering:
Overlapping chambers in garments, reducing backflow or gaps
Quick Cycle Time for comfort as well as more therapy in less time
Therapy options such as Pretherapy™, Post-Therapy, and both Sequential and Peristaltic ("Wave") cycles
Easy donning and doffing of garments
Easy-to-clean material
Here's what you can expect from Lympha Press.
Our team is committed to helping your patients achieve the best possible outcomes.
One of our nationwide compression therapy consultants will help you determine the best product for your patient's condition.
Our team of experts in private insurance and Medicare coverage will work directly with insurance carriers.  
Once received, your patient will receive thorough instructions on how to use their Lympha Press or ArtAssist therapy. We'll walk them through a full therapy session and answer any questions they might have. Our representatives always provide their contact information for assistance needed after delivery.
Our support doesn't end after delivery.
We'll provide updates on your patients' progress and invite them to participate in our online
Patient Roundtables
, encouraging them to adhere to the protocols you've prescribed. Just as we want patients to find it easy to use their Lympha Press, we also want to make it easy (and a pleasure) to work with our team. Consider using
DocuSign
to handle paperwork electronically or let us know your preferred method of communication. You can be confident that we'll keep you and your patients apprised of the status of your Lympha Press order.
Want to see how Lympha Press works in person?
Always Learning. Always Growing.
It's invigorating to be exposed to new research, and leading-edge information is regularly presented through the Lympha Press Educational Webinar Series.
Each month, we host thought leaders who share their insights and discoveries. Attendees at our live events can ask questions and get answers to help grow their knowledge base. Even if you can't attend the webinar, we still invite you to register so we can send you the replay to watch at your convenience.
Have an idea for a topic that deserves more attention? Let us know.
Unlocking the Brain's Lymphatic System: The Next Frontier in Supermicrosurgery with Dr. Wei F. Chen
Dr. Wei F. Chen expands on findings about lymphatic dysfunctions of the ...
Caring for Lymphedema Patients in a Home Health Setting with Kris Nesheim and Karen Ashforth
In this webinar, certified lymphedema therapists Kris Nesheim and Karen ...
Breast Cancer Exercising: PreHab, Post-Op, and Post Discharge with Rochelle Brannan
This presentation on exercise recommendations is divided into three breast ...
Identification of Lymphatic Activators in Anti-Aging Research with Dr. Epameinondas Gousopoulos
The lymphatic system does not only play a paramount role in physiological ...
Lifestyle & Lymphedema: Impacts of Nutrition, Exercise, Sleep, and Stress with Leslyn Keith and Robert Erkstam
Speakers Leslyn Keith and Robert Erkstam propose that a vital piece of ...
Surgical and Percutaneous Decompression of Thoracic Duct-Venous Junction: One Location, Multiple Disease Processes with Megan Asher
Explore the central lymphatics with Megan Asher, CRNP, MSN, in this thought-provoking ...
The Issues are in the Tissues with Linda Anne Kahn
Linda Anne Kahn discusses the fascia and explains how trauma is stored ...
A New Theory: Lipedema is Caused by Subclinical Compartment Syndrome with Dr. Karen Herbst
Dr. Karen Herbst brings her keynote message from the 2023 Fat Disorders ...
Lymphatics: Future Perspectives, Unrealized Potential with Dr. Philip D. Houck
Dr. Philip D. Houck reviews the role of lymphatics in salt sensitivity, ...
Improving Outcomes Before Lymphatic Surgery with Decongestive Therapy and Intermittent Pneumatic Compression with Dr. Corrado Campisi and Elena Parodi
Dr. Corrado Campisi and lymphedema therapist Elena Parodi speak about the ...
First Aid for Lymphedema Patients with Paula Donahue
This webinar focuses on key points, strategies, and opportunities for education ...
Five Benefits of Telehealth for Vascular Patients with Karen Ashforth and Gretchen Walsh
In an increasingly virtual world, how can you use telehealth to better ...
What Lies Beneath the Skin Surface: Discoveries with Infrared Thermography with Frank Aviles, Jr.
In wound care and lymphedema, early recognition and early deployment of ...
Myths Debunked! How Lymphatic Imaging is Changing Patient Treatment Plans with Drs. Caroline Fife and Eva Sevick
Advances in lymphatic imaging have been a game changer and in this compelling ...
Pelvic Dysfunction and Lymphedema with Dr. Shelley Smith DiCecco
This presentation offers a more complete understanding on how the pelvic ...
Adverse Childhood Experiences (ACEs), Toxic Stress, and Chronic Disease with Kathleen Lisson
In this webinar, Kathleen Lisson, CLT, offers beneficial stress reduction ...
Pediatric Lymphedema: Cases, Bandaging, and Imaging Review with Dr. Caroline Fife and Missy Baylor
Dr. Caroline Fife and Missy Baylor, CLT, discuss clinical presentations ...
Decongestive Exercises for Lymphedema with Lisa Berman Sylvestri
Do you or your patients understand the importance of muscle pump activity? ...
How Mast Cell Activation Syndrome, Mitochondrial Dysfunction, and the Brain Impact Your Patients with Linda-Anne Kahn
In this exciting and research-oriented talk with Linda-Anne Kahn, we explore ...
Lipedema: Cooling the Fire Within with Dr. Karen Herbst
In this Lipedema Awareness Month webinar, Dr. Karen Herbst explores theories ...
Lipedema: Evidence-Based Truths with Dr. Omar Beidas
Dr. Omar Beidas reviews the history, background info, stages, and types ...
Lipedema Landmines: How MCAS, hEDS, and POTS Show Up and Affect Lipedema Treatment with Karen Ashforth
Karen Ashforth focuses on increasing awareness of three syndromes that ...
Sea Turtles, Skin, and Space: What's the Connection? with Dr. Heather Hettrick
Dr. Heather Hettrick explains how what we are learning from sea turtles ...
Outcome Measures for Lipedema and Lymphedema with Molly Sleigh, OTD, OTR/L, CLT-LANA
There is increasing awareness of the need for disease-related patient-reported ...
Considerations for Lymphatic Treatment with Orthopedic Injuries and After Surgery with Lesli Bell, PT, DPT, CLT-LANA
Swelling and pain are two of the biggest limitations for orthopedic rehabilitation. ...
The Glycocalyx and L-O-V-E (Lymphedema of Venous Etiology) with Drs. Mark Melin and Heather Hettrick
In this webinar, Drs. Mark Melin and Heather Hettrick explore the premise ...
Why Do Some of My Patients Never Fully Get Better? The Importance of Connective Tissue and Dysautonomia Syndromes in Lymphedema and Lipedema Treatment with Karen Ashforth, MS, OTR/L, CLT-LANA
Anomalies in connective tissue and the autonomic nervous system play a ...
Is All Edema Lymphedema? With Dr. Heather Hettrick
All edema is lymphedema. A simple statement, yet controversial in many ...
Integrating Research in Decongestive Lymphatic Therapy with Dr. Andrea Brennan
Dr. Andrea Brennan reviews the current evidence on the effects of decongestive ...
Breath Work and Mindfulness: Adding to Your Self-Care Toolbox – Kathleen Lisson
Take a self-care break and experience some simple ways to add mind-body ...
Case Studies and Insights into Lipedema and Dercum's Disease — Dr. Emily Iker
This fascinating presentation highlights case studies and photos of patients ...
Addressing Fibrosis: An Essential Component of Breast Cancer-Related Lymphedema
In this webinar, learn to identify eight of the most common types of fibrosis ...
The Lymphatic Code — Leslyn Keith, OTD, CLT-LANA
Unlock the mysteries of the lymphatic system and learn why the lymphatic ...
Treatment of Massive Localized Lymphedema
Massive Localized Lymphedema is a rare "pseudosarcoma" occurring in morbidly ...
Treating Pain, Fibrosis, and Swelling with Lympha Press
Lipedema symptoms of pain and swelling, as well as progressive fibrotic ...
Comprehensive Treatment for Lipedema: What You Can Do
What can you do to make life better for yourself with lipedema and lymphedema? ...
Mind, Body & The Matrix – The Role of Pumps and Other Therapies for Lipedema
Dr. Herbst explores the mind/body connection and how stress affects the ...
Frequently Asked Questions
Selecting Treatment Settings and Appliances